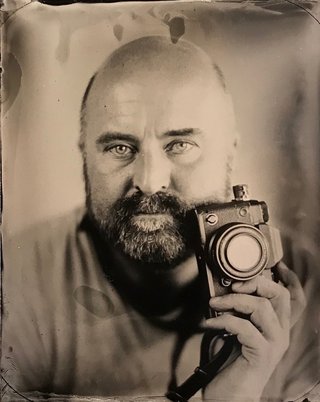 by Filipe Barroso, Portugal 2018
Als Fotograf und Lehrer lebt und arbeitet Michael Wagener in Köln. Nach einem Kunststudium an der Universität Siegen, festigte er bei Simon Puschmann in Hamburg seine Fähigkeiten in der kommerziellen Fotografie. Auf seine wissenschaftliche Mitarbeit an der Universität Siegen folgten Lehraufträge im Bereich der Kunst- und Medienpädagogik mit Schwerpunkt Fotografie an den Hochschulen in Oldenburg, Flensburg, Siegen und Köln.
2008 wurde Michael Wagener als Mitglied der DGPh berufen. Seit 2012 veröffentlicht er als freier Mitarbeiter für das französische Kulturmagazin MicMag regelmäßig Fotoessays und Artikel. 2013 vergab er als Mitglied der Jury den ersten deutschen Bildungspreis für Fotografie. 2017 organisierte er ein Pilotprojekt zur Vermittlung der SDGs der UN im Medium der Fotografie in Kooperation mit
CANON
. Seine Fotografien präsentierte er bereits in zahlreichen Ausstellungen im In-und Ausland (u.a. Photoszene Köln, 2018/2016; Staatspreis manufactum, Museum für Kunst und Kulturgeschichte Dortmund, 2017; Blank Wall Gallery, Athen,2017;
IHK
, Düsseldorf, 2017).
Michael Wageners beruflichen Erfolge und Anerkennungen stellen einmal mehr unter Beweis, wie gut seine Arbeit als Fotograf mit seiner Rolle als Lehrer harmoniert. Die Leidenschaft für Fotografie trägt er derzeit als Kunstlehrer am Hölderlin Gymnasium Köln weiter. Als Lehrer konnte er 2014 sogar mit einer Schülergruppe eine künstlerische Reise nach West Papua/Indonesien umsetzen. Durch den Austausch mit der "Generation Z" und den "digital natives" wird sein Umgang mit Kunst und insbesondere Fotografie fortgehend neu hinterfragt und inspiriert. Freiräume nutzt er daher intensiv für Fotoprojekte und kommerzielle Aufträge im Raum Köln sowie deutschlandweit. Dank seiner ausgedehnten sozialen und beruflichen Vernetzung führen ihn bisweilen auch Projekte ins Ausland, wie bspw. 2015 nach Tokyo, wo er das chinesische Topmodel Jie Duan fotografierte und die Arbeit von Deborah Ten dokumentierte. Mehrfach nutzte er bereits Sabbatical, um Menschen und Kulturen verschiedenster Länder zu dokumentieren. Zu den Highlights seiner Reisen zählen bspw. die Dokumentation der Kunstszene im Iran mit dem französischen Journalisten Helios Molina oder die Begleitung der
NGO REWA
Society 2018 bei ihrer Arbeit mit Menschen mit Behinderung im Himalaya. Die Süddeutsche Zeitung stellte ihn 2018 im Onlinemagazin mit seinem Portfolio über Georgien als Reisefotograf vor.
Michael Wageners breit gefächertes Interesse an Kunst, Kultur und Mensch spiegelt sich im Spektrum seiner fotografischen Arbeiten wider, die u.a. Porträt-, Reise- und Landschaftsfotografie sowie Sozialreportagen umfassen. Als freiberuflicher Fotograf genießt er das Privileg, seine Bildmotive nach Interesse und Neugierde zu wählen. So beschäftigt er sich in aktuellen Arbeiten vermehrt mit der Ästhetik des Tanzes, zum Beispiel in einem Shooting mit der professionellen Tänzerin Josefine Patzelt.
Hinsichtlich seiner Berufswahl gibt es für Michael Wagener letztlich kein "entweder – oder". Seit jeher entwickelt er mit Leidenschaft seine fotografischen Fähigkeiten lernend und lehrend weiter. Seine hervorragenden Werke sprechen für ihn. Und mit Sicherheit gilt: The best is yet to come.
Regine Epp – M.A. Kunstgeschichte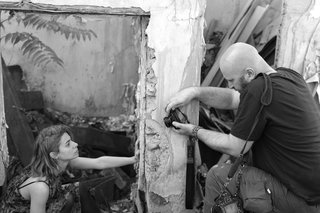 by Ed Tadevossian , Armenia 2017
English:
Michael Wagener lives and works in Cologne as a photographer and art teacher. After studying applied art at the University of Siegen, he consolidated his skills in commercial photography by assisting Simon Puschmann in Cologne. A position as scientific officer at University of Siegen was followed by lectureships in the field of art and media education with a focus on photography at the universities in Oldenburg, Flensburg, Siegen and Cologne.
In 2008 Michael Wagener was appointed as a member of the Deutsche Gesellschaft für Photographie (DGPh). Since 2012 he publishes photographic essays and articles in MicMag, a French cultural magazine. In 2013 he joined the jury of DGPh for the first DGPh-Bildungspreis (Education Award) for Photography. In 2017 he organized a pilot project for the mediation of the SDGs of the UN in the medium of photography in cooperation with
CANON
. His photographic work has been presented in numerous exhibitions in Germany as well as abroad (e.g. Photoszene Köln, Cologne, 2018/2016; Staatspreis manufactum, Museum für Kunst und Kulturgeschichte, Dortmund, 2017; Blank Wall Gallery, Athens, 2017;
IHK D
üsseldorf, Dusseldorf, 2017).
Michael Wagener's professional achievements and recognition give proof of how well his work as a photographer harmonizes with his role as a teacher. Currently he mediates his passion for photography by teaching at the Hölderlin Gymnasium (secondary school) in Cologne. In 2014 he even realized a journey to West Papua/Indonesia with his students. His daily interaction with the "Generation Z" and "digital natives" benefits his art and especially photography by continuous inspiration and rethinking. Scope for development is therefore intensively used for photographic projects and commercial assignments in Cologne area and worldwide. Thanks to his extensive social and professional networking, projects take him abroad, e.g. to Tokyo in 2015, where he had a photo shooting with chinese topmodel Jie Duan and documented the work of Deborah Ten. Several times he already used sabbatical for journeys to document people and cultures of different countries. Amongst other things he documented the art scene in Iran with French journalist Helios Molina or joined
NGO REWA
society at their work with disabled people in the Himalayas – to point out just a few of the countless highlights of his journeys. In 2018 the German newspaper Süddeutsche Zeitung introduced Michael Wagener in their online magazine with his portfolio about Georgia as a travel photographer.
Michael Wagener's broad interest in art, culture and people is reflected in the wide spectrum of his photographic works, which include portraits, travel and landscape photography as well as social reports. As a freelance photographer, he enjoys the privilege of choosing his motifs by interest and curiosity. In his current works he increasingly deals with the aesthetics of dance, for example in a shoot with the professional dancer Josefine Patzelt.
Regarding his career choice, there is no "either – or" for Michael Wagener. He has always been passionate about advancing and teaching his photographic skills. The outstanding artworks speak in his favour. And without doubt: The best is yet to come.
Regine Epp – M.A. Art History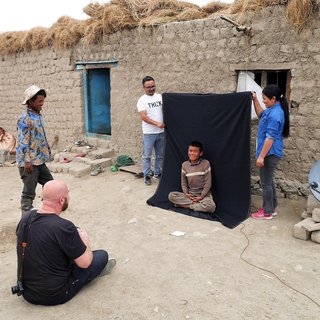 by Kirstin Spieswinkel, Leh – Ladakh 2018